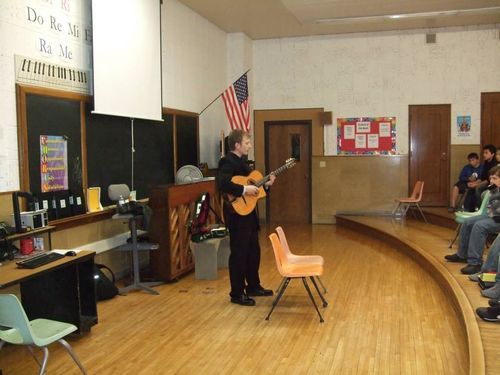 Zander Wyatt has had the opportunity to teach musical instruments in Nashville since 2002.  He received a Bachelor of Music degree in Commercial Music with a Composition and Arranging Emphasis from Belmont University.  His principal instrument is guitar specializing in Jazz, Classical, Rock and Bluegrass but as a Utility Player, he also teaches slide guitar, banjo, mandolin, dobro, bass and ukulele. A 3rd generation Nashville musician, he has been exposed to music his entire life. Over the years, he has had the opportunity to perform and record with many great artists including Larry Fleet, Lady A, Pam Tillis, Aberdeen Green, John Michael Montgomery, The Gypsy Hombres and many others. 
 
I am currently teaching at:
Online: Daily
Rob Jackson Studio: (Green Hills) Mondays, Tuesday mornings and Wednesdays:
Lane Music- (Cool Springs) Tuesdays or other days upon request,
If the day/time you are looking for is booked, Please reach out and I will happily work to accommodate. I also offer discounts if you schedule a regular time (even if only once a month) rather than booking through the site.  Let me know if that is something you are interested in!  
I believe the ability to play an instrument is only part of musicianship. I also strive to teach my students the theory behind the music they learn.  I have given lessons to everyone from beginners to touring and session players who wanted a better knowledge of their instrument.  I teach guitar, banjo, bass, mandolin, and Ukulele and styles of music including (but not limited to): bluegrass, country, rock, jazz, R&B, and Gypsy Jazz.  I cherish the opportunity to teach any level of player.  You can schedule a lesson online or you can schedule directly through me.  I am continuously accepting new students.  If you are looking for a Saturday lesson please send me an email.   
---
TESTIMONIALS
"When I started my 9 year old son on guitar lessons, I was very concerned that the teacher both really know his stuff and also be capable of developing a fun teaching relationship with him. Zander met all of these requirements and then some. He put my son at ease, and developed a teaching plan that was geared specifically to him so that he both made quick progress and had a lot of fun playing. In short, Zander is an excellent guitar teacher!"
-John C
"Zander is an excellent teacher for children and adults. He has great knowledge, patience and is kind which makes for a pleasurable learning environment. I'm so glad that we found him! "
-Jamie

"I was in Nashville this past summer and thought a banjo lesson would be cool. I called around for weeks before I arrived and the name Zander Wyatt kept coming up. I left a message on his phone but doubted I'd hear back from him. But in a few days I got a response back. Sure! I only wanted one lesson but Zander put me in the schedule. Cool! I was traveling and so he found a loaner banjo for me. Wow! The lesson, the one lesson, I had with Zander was amazing. In one hour we covered a ton. By the end of that lesson I had a new hand position, my picks were on right, I was playing smoother, and reading tab better. Amazing! If you haven't guessed by now I totally support Zander. I wish I were in TN and not CA. I would be taking weekly lessons. What more can I say? Zander is great!"

-John from CA